YAESU FTA-450L Airband VHF Handheld Transceiver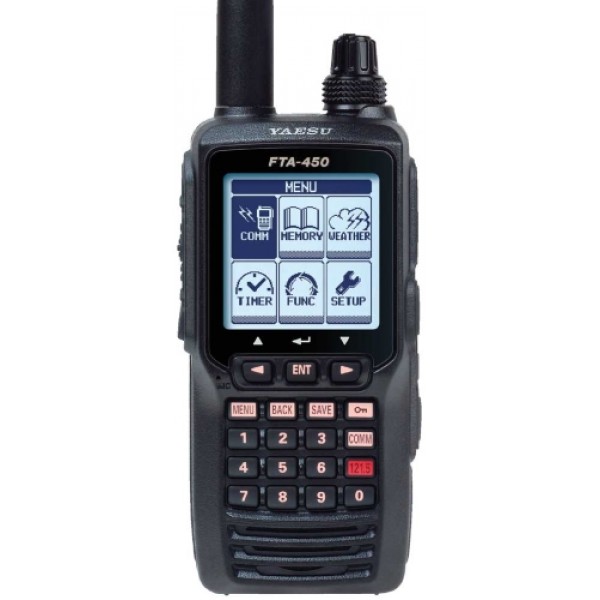 YAESU FTA-450L
THIS RADIO IS NOT AVAILABLE FOR POSTAGE OUTSIDE THE UK. IF YOU ORDER IT, WE WILL REFUND YOU


YAESU FTA-450L "Comm Only" Air Band Transceiver.

The new FTA-450L is a competitively price COMM ONLY version transceiver, sharing the same core feature set and the compatible accessories as the FTA-550L (see below for details). The new FTA-450L provides 5W TX power output power and has a Large Full-Dot Matrix Display featuring the Easy-to-Operate icon driven menu system. The loud 800mW internal audio speaker guarantees the call will not be missed. 8.33kHz narrow band compatible, and with a programmable 200 channels up to 15 alphanumeric characters, all favourite channels can be easily stored and retrieved with just a few button presses.

FTA-450L Comes supplied with:

Li-Ion battery, AC and DC charger with cradle, Alkaline battery tray, Antenna, Belt clip, headset adaptor, and USB programming cable.


5 watt TX output power ( Air band AM 5W PEP typical 1.5W carrier)
Large 1.7" x 1.7" ( 43.2mm x 43,2mm) Dot matrix display ( 160 x 160 dots)
200 memory channel with 15 alphanumeric characters per memory
Back-Lit keypad and display with dimmer control
Water protection - IPX5 rating
Loud Audio (800mw)
includes high capacity Rechargeable Li-ion Battery pack ( 7.4v 1800mAh).
includes Alkaline Battery Tray ( 6 x AA).